The Suicide Squad: Hysterically Funny & Unabashedly Gory
The Suicide Squad is a fast-paced non-linear narrative that perfectly balances violence and comedic elements of the film. Even though this is a superhero movie, don't expect it to be your usual dose of family-friendly content. It's a visually impressive film that is wickedly entertaining and will keep you on your toes at all times. 
The Suicide Squad has a huge ensemble cast, though almost half of it is wiped out ten minutes into the film. Margot Robbie reprises her role as Harley Quinn but is quickly overshadowed by the charismatic performances of Idris Elba (Bloodsport) and John Cena (Peacemaker). King Shark voiced by Sylvester Stallone is a great addition to the comedic elements of the film. Even though he has developed a taste for human meat.
Perhaps the biggest star and anchor of the film is the twisted and no holds barred mind of director James Gunn. He is well known for his mashup of action and comedy in Marvel's Guardians of the Galaxy.
While Gunn was initially supposed to direct the Guardians of the Galaxy Vol. 3, a few of his old tweets got him in trouble with Marvel. Instead of joining the bandwagon, DC scooped him up to direct another ensemble cast of failed superheroes called The Suicide Squad.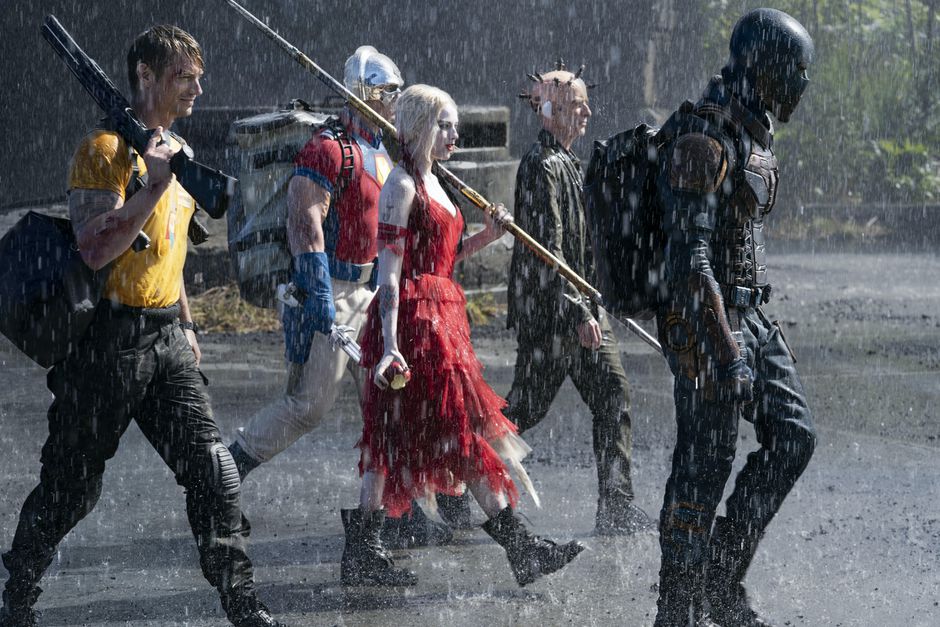 Without Disney's family-friendly shackles tied to Gunn, the director unleashes a whole new definition of violence in superhero films. The alternative title for the film could also be James Gunn: Unleashed because that's what it truly is. 
The basic plot of The Suicide Squad is quite simple. Amanda Waller (Viola Davis) recruits a bunch of supervillains in a black-ops mission to neutralise a Nazi-era lab in South America. Don't get too attached to the characters though, as bodies will drop left and right. There is a lot of blood gushing violent action and a ton of F-bombs that are casually dropped throughout the movie. The amount of bloodshed and language used can even put Deadpool (2016) to shame. 
The film is a standalone sequel to David Ayer's Sucide Squad (2016). Will Smith who played Deadshot in the first film didn't return to reprise his role. Frankly, in more than one way, it seems that Idris Elba was essentially playing Deadshot but under a different name. Even Taika Waititi had a rather surprising cameo in the film as Ratcatcher 1.
The Suicide Squad is currently in theatres and streaming on HBO Max.
Final Verdict: 4.3 stars (out of 5)