Barbie vs Oppenheimer: Unprecedented Showdown Shaping Pop-Culture
In an unprecedented clash of cinematic worlds, two highly anticipated movies, "Barbie" and "Oppenheimer," are set to release on the same day – July 21, 2023 igniting a wave of excitement and speculation within the film industry. While both films offer distinct narratives and target different audiences, their simultaneous release presents an intriguing scenario that will undoubtedly have a profound impact on the industry.
As audiences brace themselves for this box-office showdown, it is essential to explore the significance of this clash and examine the stark differences between the two films.
Barbie: A Celebration of Iconic Fantasy
The Barbie franchise has captivated generations with its iconic fashion doll, representing beauty, empowerment, and limitless imagination. The upcoming Barbie film is expected to continue this legacy, immersing viewers in a world of fantasy and glamour. With its vibrant colours, catchy music, and an emphasis on female empowerment, the movie aims to cater to a wide range of audiences, particularly young girls and fans of the iconic doll. Through Barbie's journey, the film celebrates creativity, diversity, and the importance of embracing one's unique identity.
The plot follows the adventures of Barbie and Ken, who find themselves expelled from the perfect world of Barbie Land due to their imperfections. They embark on a self-discovery journey in the realm of reality. Directed by Greta Gerwig and written by Gerwig and Noah Baumbach, the film boasts a star-studded ensemble cast, including Margot Robbie, Ryan Gosling, Will Ferrell, Kate McKinnon, Michael Cera, Emma Mackey, America Ferrera, Dua Lipa, Issa Rae, Simu Liu, Emerald Fennell and more.
With a dedicated fan base and a strong presence across various social media platforms, Barbie has generated significant buzz. The film benefits from being a generational brand, appealing to women of different age groups. Director Greta Gerwig's involvement, along with the star power of Margot Robbie and Ryan Gosling, adds to its appeal. However, it remains uncertain how the online buzz will translate into real-world interest.
Oppenheimer: A Story About the Father of the Atomic Bomb
In stark contrast, "Oppenheimer" delves into the life and work of J. Robert Oppenheimer, the renowned physicist who played a pivotal role in the development of the atomic bomb. This historical drama confronts audiences with the moral and ethical dilemmas surrounding the invention of the atomic bomb. With its emphasis on intellectual depth, intense performances, and a profound exploration of Oppenheimer's struggles, the film appeals to those seeking thought-provoking narratives and a deeper understanding of historical events.
Directed by the maestro Christopher Nolan, this film will explore the life of J. Robert Oppenheimer, also known as the "father of the atomic bomb." Like typical Nolan-directed films, Oppenheimer has been shot on IMAX cameras for an immersive cinematic experience, in fact, Kodak developed a special B&W 65mm film stock that allowed scenes to be shot on IMAX black and white for the first time.
Cillian Murphy portrays the complex character of Oppenheimer, supported by an impressive cast featuring Emily Blunt, Robert Downey Jr., Matt Damon, Rami Malek, Florence Pugh, Benny Safdie, Jack Quaid, Gary Oldman, and others.
Oppenheimer benefits from Christopher Nolan's reputation as a reliable box office draw, as evidenced by the success of his past films. The film's focus on adult-oriented thrills offers counter-programming amidst a summer dominated by family-friendly releases. However, the film's three-hour runtime places emphasis on word of mouth and its strictly narrative-driven nature. Furthermore, it faces crossover competition with Mission: Impossible – Dead Reckoning Part One, targeting a similar demographic. 
The Rise of "Barbenheimer"
The stark contrast between Barbie and Oppenheimer has ignited a social media frenzy, with fans celebrating the prospect of a Barbenheimer double feature. Memes capturing the stark differences between the two films have gone viral, further intensifying the excitement. The organic buzz generated by fans on social media has become a marketing boon, heightening anticipation leading up to the simultaneous release of Barbie and Oppenheimer on July 21, 2023.
The simultaneous release of "Barbie" and "Oppenheimer" on the same day signifies a significant shift in the film industry. This clash highlights the growing diversity of content and the willingness of studios to explore unconventional themes and narratives. It challenges the notion that films targeting different demographics must be released at separate times, indicating growing confidence in the market's appetite for diverse offerings.
The simultaneous release also intensifies competition between the two films, with each vying for box-office success and critical acclaim. This high-stakes battle forces studios and distributors to strategize their marketing campaigns and release plans meticulously, ensuring maximum exposure and engagement from their respective target audiences.
Industry analysts, such as Robert Mitchell, emphasize that the striking disparity between the two films has naturally fueled narratives and created a buzz around the unconventional double bill. The fan-driven conversations and the unexpected rise of Barbenheimer have amplified the industry's marketing efforts, generating enthusiasm among moviegoers.
While both films exist in separate realms, their differences extend beyond their subject matter. "Barbie" embraces its vibrant aesthetics, catchy music, and playful humour, focusing on empowering young girls and celebrating imagination. On the other hand, "Oppenheimer" delves into the sombre realities of history, exploring moral dilemmas and the profound consequences of scientific discoveries. These contrasting themes and tonalities are likely to attract distinct audience segments, highlighting the diversity of interests within the movie-going public.
Estimated Box Office Earnings
As the highly-anticipated Barbie and Oppenheimer movies gear up for release, projections suggest that the Margot Robbie-led Barbie film is poised to outshine Christopher Nolan's biopic-thriller Oppenheimer at the box office. According to industry reports, Barbie is expected to rake in an impressive $80 to $100 million during its opening weekend, doubling the projected collections of Oppenheimer.
Considering that Oppenheimer is a 3-hour-long R-rated historical feature film, it comes as no surprise that Barbie will lead collections at the Box Office. While Barbie has always been favoured among commercial moviegoers, the impact of Nolan's filmmaking cannot be underestimated.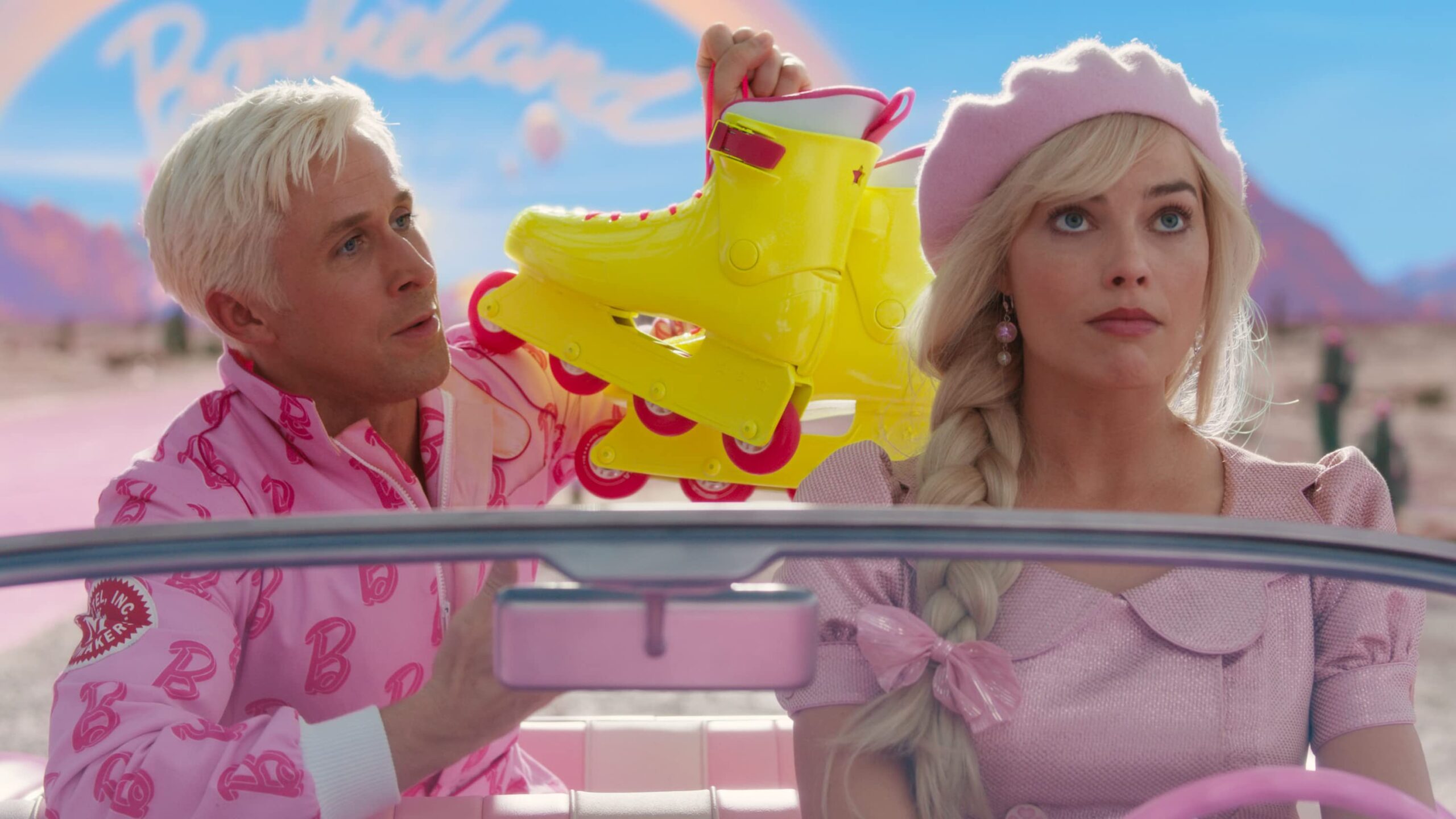 Industry Implications:
The upcoming box office battle between Barbie and Oppenheimer on July 21, 2023, has escalated into a feud among fans of each director and their respective films. Notably, Oppenheimer marks Nolan's first release for Universal Pictures following a split from Warner Bros., a decision prompted by Warner Bros.' simultaneous theatrical and streaming releases in 2021.
Since then, Warner Bros. has expressed a desire to mend fences and entice Nolan back to the studio. However, the decision to release Barbie directly against Oppenheimer, potentially undermining Nolan's film, raises questions about the sincerity of Warner Bros.'s intentions and the impact this clash may have on Nolan's future collaborations.
The Barbie vs Oppenheimer clash holds broader implications for the film industry. By pitting two high-profile films against each other, the industry finds itself at a crossroads, grappling with the shifting dynamics between theatrical releases and streaming platforms. The outcome of this clash could influence the future distribution strategies of major studios and shape the direction of the industry as a whole.
By offering distinct experiences, both films have the potential to captivate and resonate with their respective audiences. Whether viewers gravitate toward the whimsical world of Barbie or the intellectual exploration of Oppenheimer, this clash underscores the industry's ever-evolving landscape and its ability to cater to a wide range of cinematic tastes. As the release date approaches, audiences and industry professionals will closely observe the box office results, awaiting the verdict on which film will reign supreme and leave a lasting impact on the film landscape.