Doctor Strange in the Multiverse of Madness Review
Doctor Strange in the Multiverse of Madness is a chaotic horror-superhero film that keeps the audience glued to the screen with stunning visuals as we have never seen before. However, the visual extravaganza and brilliant cinematography fail to hide the lacklustre story that leaves the audience wanting for more even as the credits roll. 
Unlike previous Marvel flicks which are usually self-contained, Dr Strange in the Multiverse of Madness requires viewers to catch up with Marvel TV shows, particularly WandaVision to truly enjoy the plot of the movie. As a leading protagonist, the movie heavily features Elisabeth Olsen's Scarlett Witch, and if you haven't watched WandaVision (like most casual viewers) you're likely to miss a major plot point.
Interestingly, the movie sees the return of director Sam Raimi and music composer Danny Elfman, the duo from the original Spider-Man Trilogy featuring Tobey Maguire.
Spider-Man: No Way Home introduced the audience to the concept of the multiverse and capitalized on previous web-slingers Tobey Maguire and Andrew Garfield to deliver the nostalgic punch. Doctor Strange 2 builds on this idea and takes the audience on a journey to explore the multiverse while stating the ramifications of crossing realities.
Director Sam Raimi shakes the traditional Marvel movie formula with sinister tones and creepy aesthetics. The movie has jump scares straight out of a horror movie which is very reminiscent of the director's Evil Dead series and pushes the boundaries of the Marvel Cinematic Universe.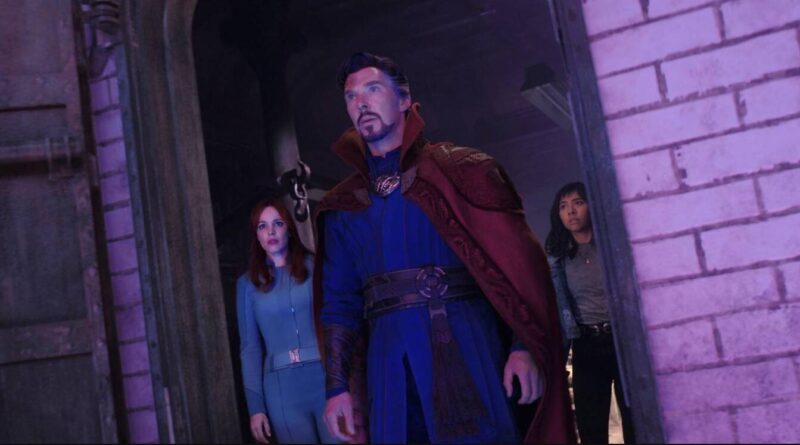 Wanda Maximoff/Scarlett Witch played by Elisabeth Olsen delivers top-notch performance and brings just the right amount of madness to her character. On the hand, Benedict Cumberbatch who plays Dr Strange for the sixth time in the MCU brings his usual class and style that differs from every version of himself.
Benedict Wong (Wong) and Rachel McAdams (Christine Palmer) return to reprise their roles. Surprisingly, the latter who has remained absent from the MCU after the first Doctor Stange (2016) film has prominent screen time.
A big drawback of the film is the lack of attention paid to America Chavez (Xochitl Gomez). Despite being the driving factor for the plot, viewers are given all but a couple of minutes to understand the story of Chavez. This left viewers having to care about a character whose powers are vague and origin almost entirely absent. The plot is chaotic, to say the least and inconsistent at many junctures.
Possibly the biggest letdown of Doctor Stange 2 was the hype and speculations on the internet. Going into the movie, there were all kinds of rumours and expectations. From Tom Cruise showing up as Iron Man to cameos from the mutant. The movie was hyped as a cameo carnival featuring new and old Marvel characters. While that didn't go as planned, the movie still manages to hold its own and shakes up the MCU with the concept of a multiverse and alternate realities. 
Final Verdict: 3.5 stars (out of 5)